Every housing project comes with its own challenge. Sometimes it is the planning or the regulations, often the budget and other times the fact that it is about a transformation. Valstar Simonis can handle these kinds of challenges well and has a good track record in the field of housing construction. We put three beautiful projects in the spotlight.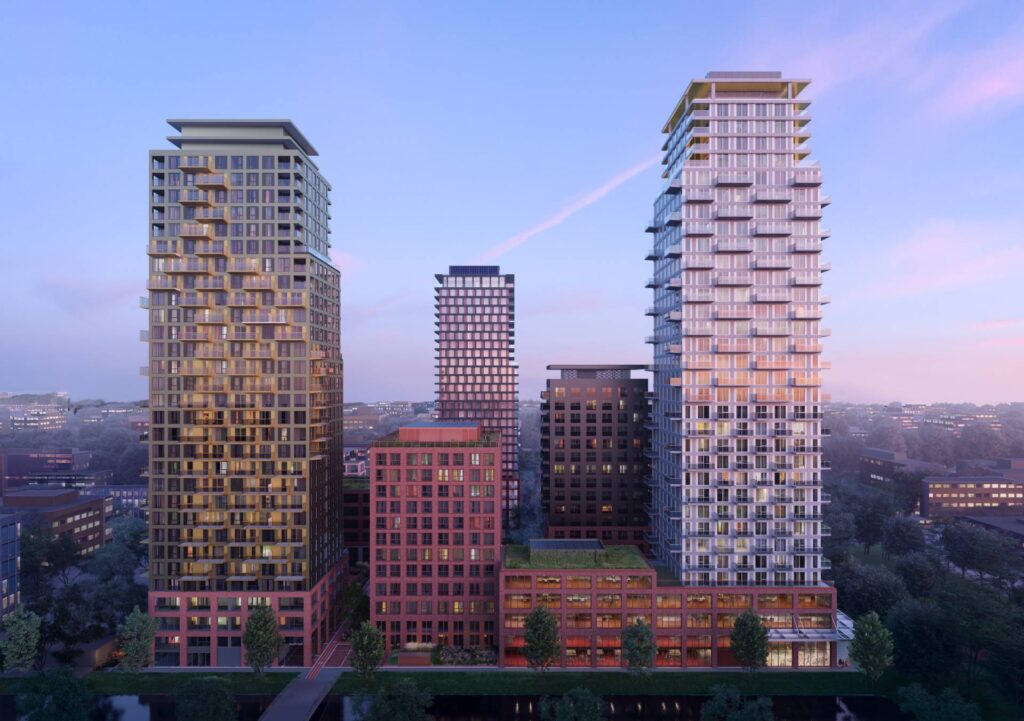 SPOT Amsterdam
SPOT stands for Superior Plan Of Transformation. This completely new city neighborhood on both sides of the Hogehilweg is part of the Amstel III area in Amsterdam South-East. This is currently still an office area, but will be transformed into a lively and multifunctional city district in the coming years. SPOT Amsterdam will alternate between high residential towers with distant views over city and countryside and smaller apartment buildings on cozy, intimate squares and green streets. There will be a very diverse range of approximately 1100 homes, of which approximately 100 social rental homes, 550 mid-market rental and owner-occupied homes and 350 private sector rental and owner-occupied homes. All homes meet the most modern requirements in the field of energy and sustainability.
In addition to this mixed residential programme, there will be pop-up and concept stores, offices, boutiques, creative workspaces, small craft spaces, schools, cafes and restaurants and sports facilities. In the design of the public space, much attention is paid to sport and exercise. Our client at SPOT is the COD/Duqer development combination that has entered into this area development entirely at risk. They have their own vision of the area transformation that has been embraced by the municipality. The architects involved are KAAN Architecten, Klunder Architecten, Mei architects, ZZDP Architecten, Motherscheim Moonen, DOOR Architecten, Marc Koehler Architects and Inside Outside. A combination of engineering firms jointly examines the technical installations, sustainable advice, building physics and construction. Valstar Simonis is responsible for all installation technical advice and designs.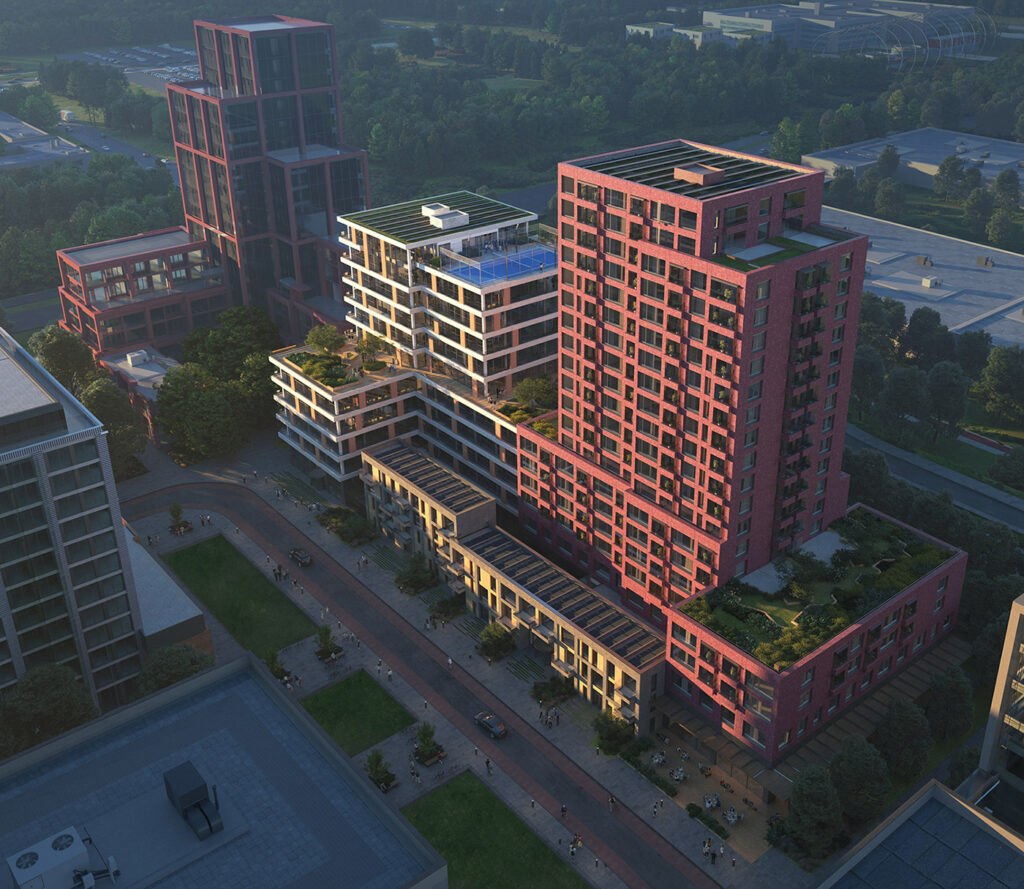 The BridgeAmsterdam
The Amstel III area will be a mix of living, working and social functions: The Bridge. The complex consists of two towers of approximately 40 and 60 meters high, which are connected on the ground floor. A fully sunken parking basement with over 100 parking spaces will be realized under the entire building. There will be space for bicycles and scooters on the ground floor and the mezzanine floor above. A total of 19 apartments will be built in the high tower (162 floors) and partly on the ground floor.
The ten-storey tower is intended for office space (a total of approximately 9.600 m2). Each floor has an outdoor area, with spacious roof terraces on a number of floors. Social/public functions will be realized on the ground floor and on the first floor, including a gym, catering and a juice bar.
This project pays a lot of attention to sustainability. For example, all roof surfaces are used to make a positive contribution to the sustainability challenges within the area. This includes rain collection, roof gardens that increase biodiversity and generating energy with solar panels. Our client is Caransa Groep, the architect is DAM + partners, Van Rossum Consulting Engineers is the constructor, Peutz is a building physics consultant and Valstar Simonis is an installation consultant for this project.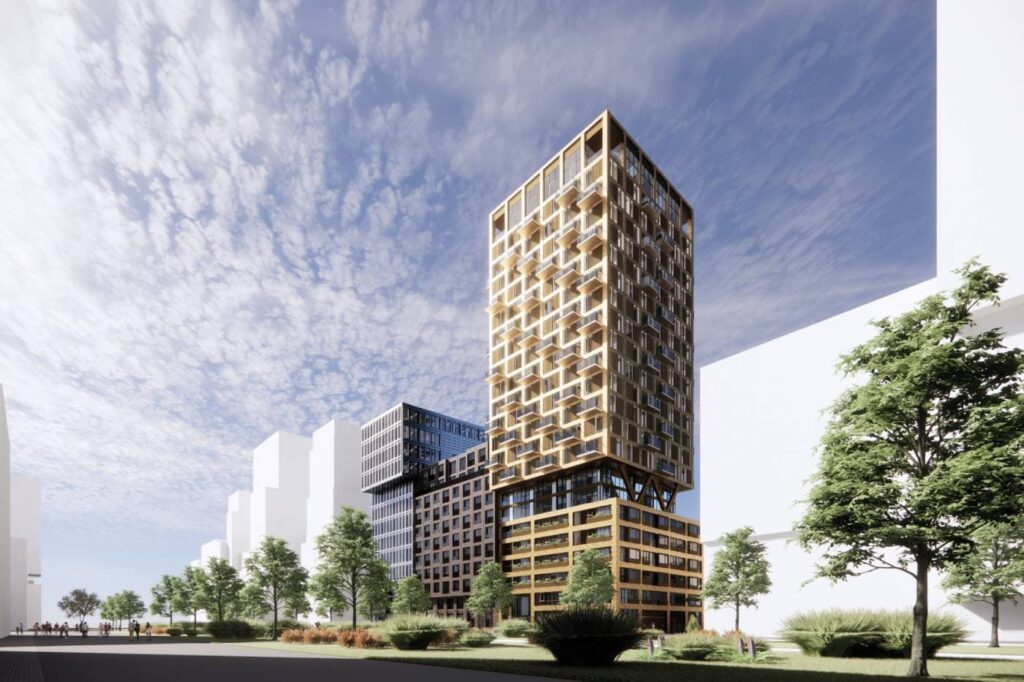 Hessenbergweg Amsterdam South-East
On the site at Hessenbergweg 109 – 119 in Amsterdam Southeast, there is still a three-storey office building next to a large parking lot. In line with the redevelopment of the area from a monotonous office area to a lively new residential area, this building will be completely demolished to make way for a new construction project.
This project consists of approximately 32.000 m2 GFA, divided into three connected main volumes: the office, a residential block with social sector rental housing and a residential tower with spacious apartments in the middle and free sector. These main volumes are located on a plinth containing the entrances, bicycle parking spaces, a commercial unit, a nursery and a supermarket. A 1-layer, extra-sunken parking garage will be built under the complex. In total, the project will have approximately 240 homes and approximately 7.700 m2 of office space.
Valstar Simonis is working on this new construction project on behalf of GreenTree Properties. This is done in close collaboration with OZ Architects, DGMR Bouw for the building physics consultancy work and Van Rossum Consulting Engineers for the constructions.
This article previously appeared in Valstar Vision, no. 13. Read the entire Valstar Vision here .